Ski Touring private lessons
Choose according to your shape !
Get away from the ski lifts to get some height, discover the white expanses of our mountains in peace and quiet...

Ask our instructors beforehand to organise your outing, they will be able to advise you on the best time (snow conditions, weather...) and prepare the most beautiful hikes with you.

Safety equipment (Arva, shovel, probe, depending on availability) is available for off-piste outings.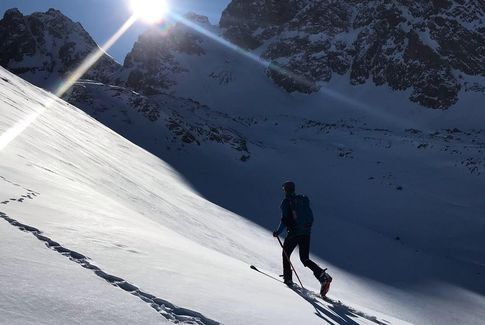 Ski Touring private lessons on request
Unit session
full day from 9:30 to 4:30
long morning from 9:30 to 1:30
morning from 9:30 to 12:00
long afternoon from 1:15 to 4:45
afternoon from 2:15 to 4:45
Snowfront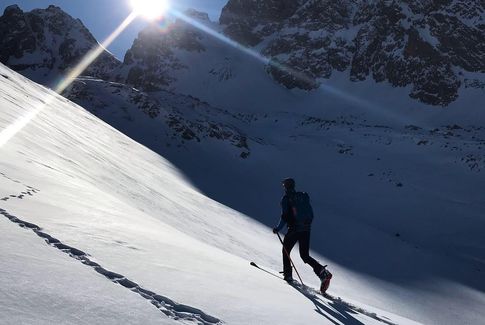 Ski Touring private lessons on request
Unit session
full day from 9:30 to 4:30
long morning from 9:30 to 1:30
morning from 9:30 to 12:00
long afternoon from 1:30 to 5:00
afternoon from 2:30 to 5:00
Snowfront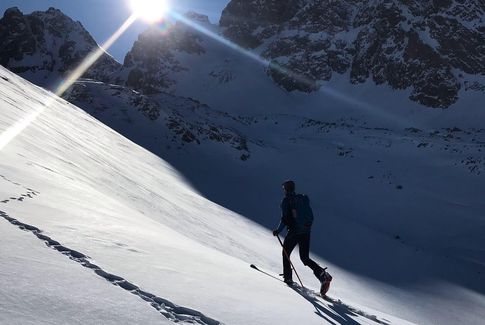 Ski Touring private lessons on request
6 or 5 consecutive sessions
From Sunday to Friday
or from Monday to Friday

full day from 9:30 to 4:30
long morning from 9:30 to 1:30
morning from 9:30 to 12:00
long afternoon from 1:15 to 4:45
afternoon from 2:15 to 4:45
Snowfront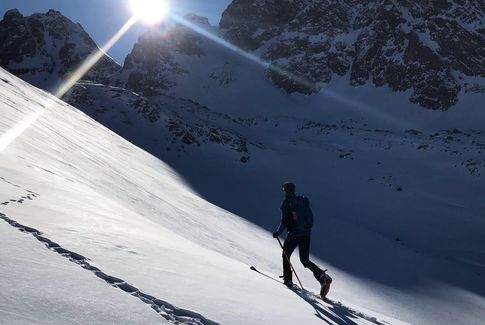 Ski Touring private lessons on request
6 or 5 consecutive sessions
From Sunday to Friday
or from Monday to Friday

full day from 9:30 to 4:30
long morning from 9:30 to 1:30
morning from 9:30 to 12:00
long afternoon from 1:30 to 5:00
afternoon from 2:30 to 5:00
Snowfront
For any other request (appointment, schedule, number of people...) please consult book your instructor

Our rates - Private lessons :
| Time | Schedules | Rate (per day and per instructor) |
| --- | --- | --- |
| Day | 9:30-4:30 | 500€ from 1 to 6 pax. |
| Long morning | 9:30-1:30 | 379€ from 1 to 5 pax. |
| Morning | 9:30-12:00 | 248€ from 1 to 5 pax. |
| Long afternoon | 1:15-4:45 | 271€ from 1 to 5 pax. |
| Afternoon | 2:15-4:45 | 198€ from 1 to 5 pax. |
| Time | Schedules | Rate (per day and per instructor) |
| --- | --- | --- |
| Day | 9:30-4:30 | 525€ from 1 to 6 pax. |
| Long morning | 9:30-1:30 | 397€ from 1 to 5 pax. |
| Morning | 9:30-12:00 | 258€ from 1 to 5 pax. |
| Long afternoon | 1:30-5:00 | 283€ from 1 to 5 pax. |
| Afternoon | 2:30-5:00 | 208€ from 1 to 5 pax. |
| Time | Schedules | Rate (per day and per instructor) |
| --- | --- | --- |
| Day | 9:30-4:30 | 525€ from 1 to 6 pax. |
| Long morning | 9:30-1:30 | 397€ from 1 to 5 pax. |
| Morning | 9:30-12:00 | 258€ from 1 to 5 pax. |
| Long afternoon | 1:15-4:45 | 283€ from 1 to 5 pax. |
| Afternoon | 2:15-4:45 | 208€ from 1 to 5 pax. |
| Time | Schedules | Rate (per day and per instructor) |
| --- | --- | --- |
| Day | 9:30-4:30 | 500€ from 1 to 6 pax. |
| Long morning | 9:30-1:30 | 379€ from 1 to 5 pax. |
| Morning | 9:30-12:00 | 248€ from 1 to 5 pax. |
| Long afternoon | 1:30-5:00 | 271€ from 1 to 5 pax. |
| Afternoon | 2:30-5:00 | 198€ from 1 to 5 pax. |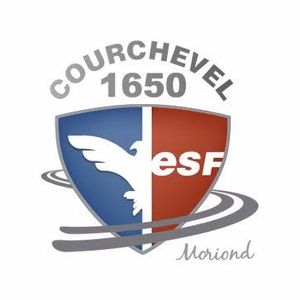 JOIN OUR SKI TRIBE
Whatever your level, at the ESF Courchevel 1650 you will find an activity that suits you and a friendly atmosphere.

Improve your skiing in a friendly group or measure yourself against the Chronos on the slopes of Courchevel 1650, you can.

Come and try the ESF Courchevel 1650 experience